Driving to the airport can be intimidating and stressful.
If it's not one of your regular driving destinations, being bombarded with signposts telling you where you can and can't go (and Traffic Control Agents telling you where you can and can't stop) can leave you feeling overwhelmed.
Even if you do make it to airport parking area, you still face a (usually) massive, multistory system that provides no clues as to whether you're in the right area for the terminal you need. (Not that it matters, because there aren't any free spaces anyway.)
Yes, parking at the airport can be incredibly stressful. Which is no good if you're one of the 44% of Americans who feel nervous behind the wheel. Just the thought of navigating all those ramps can make people anxious. And that's the last thing you want when you're about to go on vacation.
Sound familiar? Fortunately, there's a far simpler and less stressful way to park.
Offsite airport parking makes your life easier
It's close enough to the airport for you to make you flight with time to spare, but far enough away that you can avoid the parking nightmare.
Never booked offsite parking before? Here are eight great reasons why you should.
8 Benefits of offsite airport parking
Avoid busy airport traffic
It's affordable
Your parking spot is ready and waiting
Someone will help with your luggage
Your car is kept in a secure parking area
Get a ride between the parking lot and the terminals
Shuttles are reliable
Rewards and parking perks
1. Avoid busy airport traffic
Being seven miles from the terminals might not sound like much. But ending your drive to the airport a little further out means you'll avoid the airport traffic. And that's a real bonus if you're traveling during peak commuter times, which are typically 5am–8am and 3pm–5pm. Offsite airport parking that uses buses and bus lanes can get you to the terminal much faster. And because you're not the one driving, it's a lot less stressful.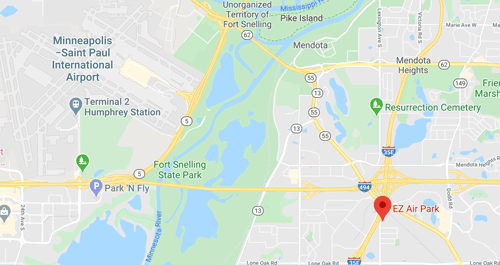 From EZ Air Park to the terminals, we're just a short journey away.
2. It's affordable
You might think private offsite airport parking would be more expensive than airport parking. But our daily rates are nearly half of what you would pay to park at the airport. And whether you book ahead or arrive at EZ Air Park on the day, the price remains the same.
3. Your parking spot is ready and waiting
No need to orbit the parking area playing 'find the free space'. Whether you pre-book your offsite airport parking or roll up on the day, we'll give you a parking area we know is available. You'll know where you're heading, and we'll know where to send the shuttle bus to pick up you, your family, and your luggage. Easy.
4. Someone will help with your luggage
Speaking of your luggage, you won't have to worry about wrestling it through the parking lot and over to the terminal. We'll load your luggage onto the bus, and unload it for you at the other end. All you need to do is carry, wheel or push it to check-in.
5. Your car is kept in a secure parking area
Our offsite airport parking is fenced, gated, and staffed 24 hours a day. There's no public access. And because we're a little further from the terminal, there's no reason for people to be randomly walking in and around our parking lot. Which makes offsite airport parking that little bit safer.
6. Get a ride between the parking lot and the terminals
Being further away from the terminal might not sound like much of a benefit. But with offsite airport parking you'll have a chauffeur taking you from your car to the terminal (and vice versa). And we operate 24 hours a day, which means that whenever you're due to take off or land, we'll get you where you need to be so your trip starts and ends safely.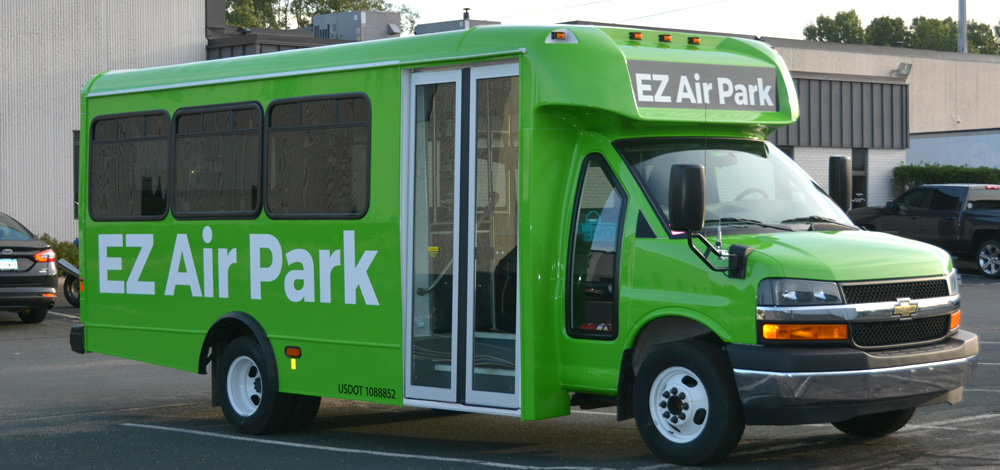 7. Shuttles are reliable and no hold ups
There's no risk of getting lost and little risk of ever being stuck in airport traffic. We're confident of this because we calculated that a single EZ Air Park driver makes roughly 42,037 round trips in a year. Doing it that many times means we know exactly how long it takes to get from the EZ Air Park lot to Lindbergh Terminal 1 and Humphrey Terminal 2 – even during busy traffic times. And we know the routes and drop-off areas like the back of our hand.
8. Rewards and parking perks
Rewards and extra perks are yours for the taking when you park with us. If you travel often, you'll benefit from the EZ Air Parking Program. It gives you one point for every paid day of parking, and a free day of parking when you collect 10 points. You could probably collect that many in a single vacation.
As our customer, you'll also enjoy extra perks that make your life before and after your flight even easier. For example:
• We'll jump start your car if it's being difficult on your return
• We'll provide air for your tires if they've run a little flat
• During winter we'll shovel the snow to keep the parking area clear for easy access in and out.
Experience the offsite airport parking benefits for yourself
Yes, we may be a little biased towards offsite airport parking. But with eight great benefits that can ease your stress and save you money and time, it's hard not to be. So give MSP offsite parking a try next time you travel.
Want to know how much it will cost to park with us for your upcoming trip? Enter a few details and you'll get a price in seconds.