Shuffling through security lines, lugging heavy carry-ons, kids in tow, long flights, longer layovers, it makes you want to wear your pajamas to the airport! While most of us don't really want to wear our pajamas in public, we've found ways to dress for travel comfortably without resorting to oversized sweat pants and faded hoodies. Here are some ways to travel in style without suiting up.
Your best bet for travel pants
For women, yoga pants have replaced sweatpants and the variety of fits can make these a nice option to dress up with a cozy, long sweater or tunic top. Finish off the look with and booties or decorative ballet flats that are comfy and easy to slip on and off for security checkpoints. For men, there are now casual alternatives to traditional twill khakis and more comfortable and stylish than stiff denim. Try a drawstring, Tencel® option that is very breathable and handsome.
Tops that are best for traveling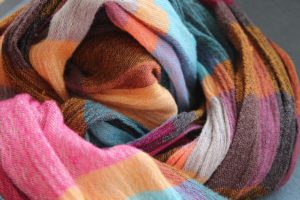 A button up cotton shirt is a good alternative to linen. It is just as breathable, but more resistant to heavy wrinkling. Adding a wrap or scarf to an outfit not only allows for more versatile options in styling, but also help with warming up during a chilly flight. Choosing a solid color shirt will allow you to be more versatile with your pants pairing and accessory choices throughout your trip.
What shoes work for travel
Slip-on shoes that can be worn with a sock are one of the best options for shoes while flying. A women's ballet flat is nice for traveling on the plane as they can be easily slipped on and off and after you've reach your destination, you can roll them up and tuck them away in your luggage until your return flight. Men also have comfortable flats available that are easy to slip on and off, like a boat shoe, available in canvas or leather. We would caution against flip flops and stiff sandals as you cannot wear a sock, which will help wick away moisture and warm your toes. Plus, are you sure you want to walk through security barefoot? Want more ideas, check out our blog on packing shoes for a flight.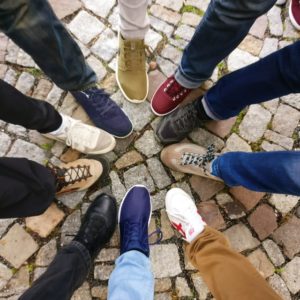 When looking for something to dress for travel on the plane, think natural, breathable fabrics and layered items that can also be worn once you've reached your destination. If you simply can't decide, bring a larger bag to check, but prepared to pay bag fees.
Make getting to the airport a breeze with our offsite airport parking shuttle. Our drivers will help you with your luggage and provide door-to-door service. You can prepare ahead of time by booking a parking space online or we're happy to serve you without a reservation as space allows.