Traveling isn't cheap. Period. Yet, there are ways to make travel more affordable. You can save on lodging with room/house sharing, hostels, or staying with friends and family. Skip the rental car and walk, bike, or hop on city transit to save money. The biggest challenge? How to get a cheap flight!
The power of the internet at our fingertips makes searching and booking a flight easy. But, the surplus of search options makes finding ways to get a cheap flight overwhelming.
Our customers and employees have traveled all over the world and found ways to get the cheap fares. EZ Air Park is here to help you uncover how to get a cheap flight for your vacation.
7 Tips on How to Get a Cheap Flight
1. Book Flights in Advance
Calling all planners, this is your time to shine!
Know where you're headed and when you want to go? The best way to get a cheap flight is to book in advance, rather than gambling on future airfare sales. Gone are the days of last-minute deals as travel picks up and airlines need to make up for the year of lost travel.
Most airlines open their schedule 11 months in advance, giving you plenty of time to plan the rest of your trip. Splurge on that cool vacation rental with the extra money you've saved on airfare!
2. Expand Your Flight Search
Time to put on your detective's cap, roll up your sleeves, and turn on 'do not disturb'. Getting a cheap flight takes work.
Some Travel experts recommend browsing in private mode and clearing cookies between new searches. You can do this by closing and opening a new private browser for each search.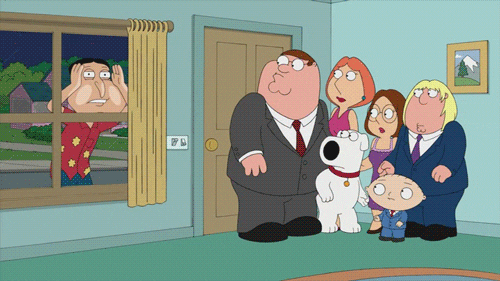 If you don't have the patience for going incognito during your flight search, expand your search across several of your favorite online booking engines like Expedia or Travelocity. Don't forget to check airfares on airlines' website. You mightbe surprised to find the cheapest flight deal is the one from the airline…we have!
Contact your local travel agent, tell them you've been looking online, and ask them if they can find you a better deal. Being a well-informed traveler pays off. Plus, you'll have the comfort of knowing a real person can help you on your quest to get a cheap flight.
One last tip, join a premium membership with ScottsCheapFlights.com or ThirftyTraveler.com. They send their members alerts on error or 'mistake' fares alerts and other rare deals. These save you time on your search and give you bragging rights as a savvy traveler.
3. Sign Up for Flight Deal Alerts
So, you don't have a lot of time to dive headfirst into a travel research project, but you want to get a cheap flight? Your best bet is to set up flight deal alerts for your destination.
First, do your research so you know what to expect for typical fares to your destination. Be realistic, set your max budget, and stick with it so you don't miss out on what could be the best fare you'll see.
Some of our favorite fare watching sites are Skyscanner, Kayak, and Momondo. Southwest Airlines doesn't take part in most flight search engines, so take the time to check their website.
The key to making the most of airfare trackers is being flexible. This leads us to our next tip- you guessed it- be flexible!
4. Be Flexible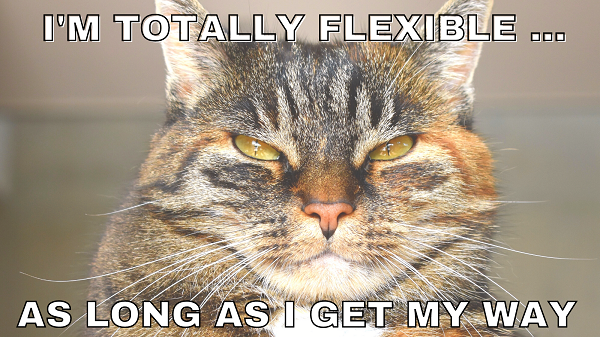 Don't love to plan? Comfortable with a little mystery? Your flexibility can pay off!
One of the best ways to find good deals is to subscribe to several of your top airlines' email lists. Airlines send out special deals for destinations or dates where they have a lot of inventory to sell. This is often the best way to get in on last-minute deals if you have a flexible schedule and open mind.
Another way to score a great flight deal is to allow some wiggle room in the days of the week and time of day you fly. Redeyes are great for the lucky travelers who can actually sleep on the plane.
We did some research in 2021 on the cheapest days to fly. Check out what we learned (spoiler alert – midweek isn't always the cheapest). When possible, avoid peak travel times like spring break and holidays if you hope to get a cheap flight.
5. Put Your Points to Use
Want an inexpensive flight but there are none in sight? It could be a great time to redeem your frequent flyer points. When flights are cheap, it's best to pay with cash.
Save your miles for expensive flights, last minute trips, and upgrades.
If you don't have enough miles for a round trip, get creative and book two one way trip. Book one using cash and the other with your points. You can even use two different airlines to get the best price.
If you don't have a credit card that gives you travel rewards, check out how to find the best travel credit cards..
6. Choose Major Hubs
At Minneapolis airport we have a great selection of airlines. MSP serves as home to Sun Country Airlines and is the second largest hub for Delta. In fact, MSP Airport is the 17th busiest U.S. airport. All those airline flight choices are great for travelers looking for flight deals.
If you aren't flying to a destination with a major hub, change your flight route to a nearby major hub. You could drive a car or take a bus or train to the smaller regional area you are visiting. Plus, you're more likely to get a non-stop flight to major hubs, getting you to your destination faster.
For instance, if you're going to San Jose, CA, rather than landing at San Jose International, land at San Francisco International, 30 miles. One search shows a savings of $150!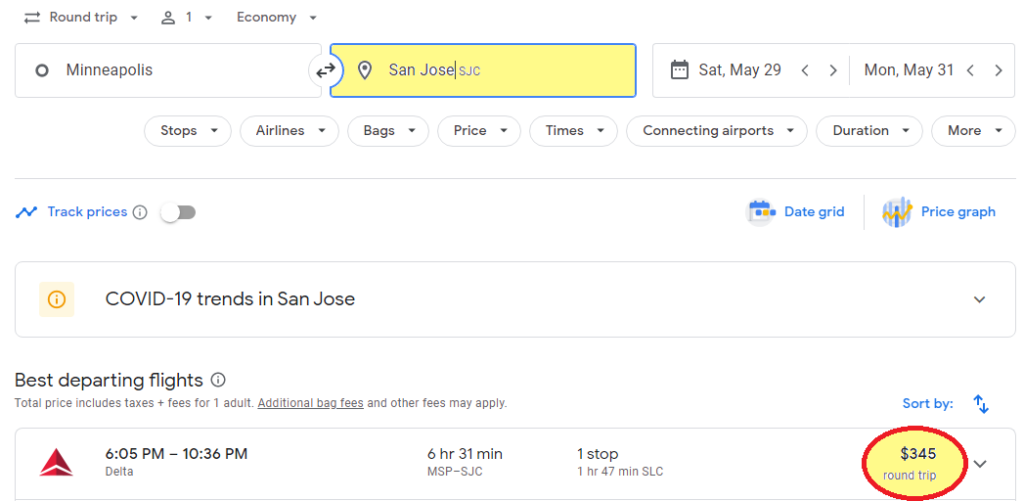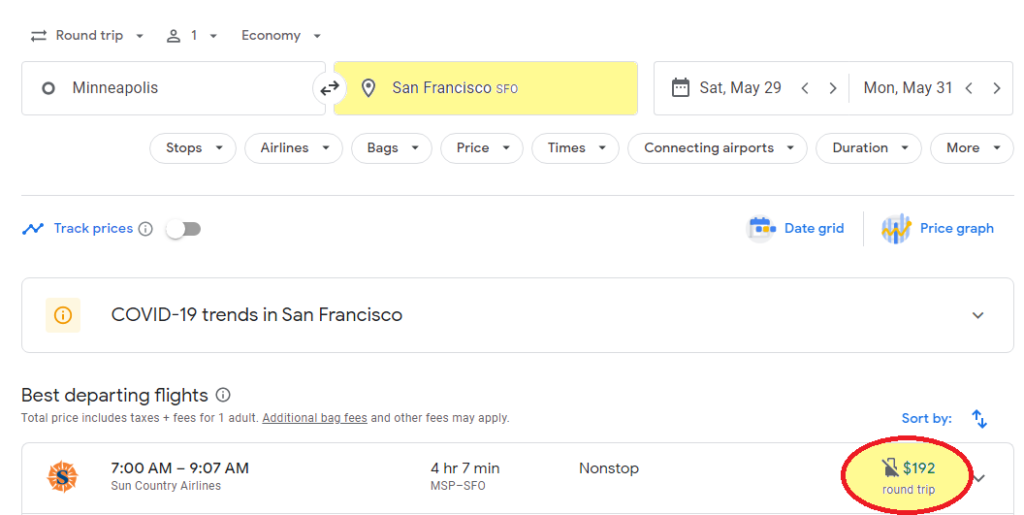 Of course, this works in reverse as well. Many of our customers travel to Minneapolis from smaller communities around the state. The savings of flying out of MSP Airport make the drive worth it!
7. Get Creative
Sometimes you have to get creative when seeking out a good deal on a flight. Some have success with mixing and matching airlines to take advantage of cheap one way fares Others split up long haul flights as separate purchases. Take care to allow plenty of extra time for layovers so you don't miss the connecting flight.
Consider sacrificing a little of your time and allow for one or more stops to/from your destination. Non-stop flights are definitely the most convenient choice and as such, you may pay more for one.
Budget airlines offer cheap flights, but beware that you sacrifice comfort or amenities. Plus, there are always added luggage fees. This will force you to scrutinize your packing list and travel light.
Travel has many benefits, from stress reduction to making new friends. So, even if you don't achieve the cheapest flight deal, rest assured the payback is still tenfold.
Finally, we recommend always getting the best deal on MSP parking. Skip the expensive MSP airport ramp and treat yourself to door-to-door 24 hour shuttle service. Most often, you'll save around 40% at EZ Air Park compared to on-airport parking at MSP. Use our handy airport parking rate calculator to get instant pricing and book a reservation right on our website!
Want more tips on travel discounts? Check out our blog The Best Travel Discounts that Really Work