If you think the only way to save money on family travel is by taking a road trip, think again. It takes work to plan a family vacation and we have ideas to help your family travel on a budget.
Road trips with the family can be fun but can limit you in time and destination choices. Sometimes it's just easier to fly, but it's much more expensive to fly when you have a family in tow.
Traveling is definitely more complicated, and more expensive, with kids, we get it! But with careful and diligent planning travel can be a regular thing for your family.
Planning your family vacation on a budget
Using search tools
If you're feeling brave, try out Skyscanner's 'Search Everywhere' option which will show you the best flight deals for the time period you want to travel. And if you REALLY want a good deal on a flight, use their 'Cheapest Month' option.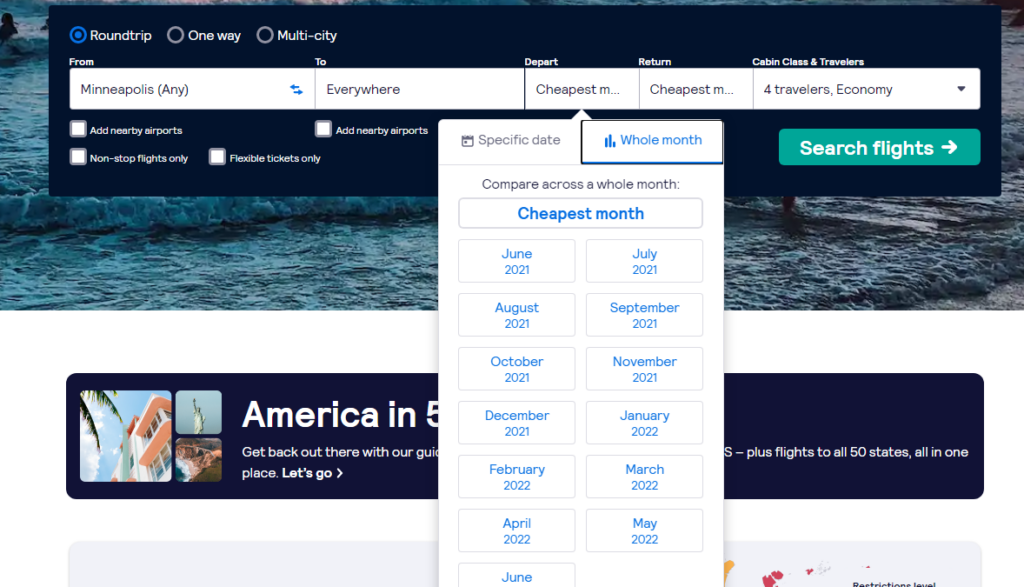 Another idea on saving money on family vacations is to visit less popular tourist destinations. Instead of Italy, try Croatia. Portugal in place of Spain. How about a stay in Poland instead of Germany? Or you could stay in 'second' cities or suburbs outside of the city center.
---
Want more ideas on how to get a cheap flight, check out this blog…
---
Travel internationally
It might sound counterintuitive because of the cost of an international flight, but food and lodging can be cheaper compared to traveling domestically if you choose a location where the cost of living is low.
Also, consider the currency exchange rates where the US dollar is strong compared to the destination's currency.
Even if you end up spending the same amount you'd spend for a vacation close to home, consider the value of the experience that you are getting.
Travel off-peak
When you have kids, the easiest time to schedule family trips is during school breaks, along with all the other school-aged children's families.
In Minnesota, you can count on crowded airports and airplanes during March when most schools have their week-long spring breaks. You probably also notice that flight costs during these weeks are at their peak.
Although it may not be ideal for families with children that have heavy homework or curriculum, taking kids out of school for a vacation outside of breaks is one way you can skip both the crowds and the pricing surge and help your family travel on a budget. This is typically easier for elementary and middle school students with a more manageable workload. If there is work they shouldn't miss, arrange for their work to be sent along. Use the times during travel in the plane or car for the kids to works. Bonus points – It also keeps them occupied!
If you want to stick to school breaks and summers, consider traveling to areas that are 'off peak' during that time where you may find cheaper airfare and lodging. Plus, you'll have a bonus of fewer crowds.
The off-peak season in Europe is November through March. Visit Australia and New Zealand in their winter season June through August. Fall is a great time to visit Southeast Asia for cheaper accommodations, but you may expect heavy rains, so pack the rain poncho!
Road trip anyone?
If you still find air travel costs prohibitive and you have plenty of time for travel because you can work remotely or homeschool your children, road trips are a great way to explore and travel 'slow'.
Need some ideas on how to answer the question "are we there yet?" try some of these:
• Let them do the math! Tell them how many miles there are left to travel and your average speed, see if they can answer their question.
• Give them a map and a pen. Every time they ask, tell them the nearest city/landmark you passed and have them mark it. Now they have a visual from point A to point B.
• If it's a road you have traveled often (say to get to a family cabin) create a road sign or landmark bingo. When they've found all of the items, they win!
• Have a small celebration for every 100 miles traveled with a sing-along, story time, or special treat.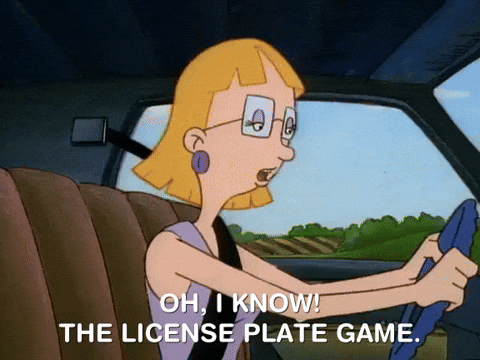 Preparing for your family vacation
After you've picked the destination for your family vacation, the real planning begins.
Family friendly lodging
Finding the right place to sleep can make a big difference for your family vacation. If you sacrifice comfort you could end up with crabby kids that have a hard time settling down and staying in bed.
Depending on the age, size, and patience level of your family a standard hotel room might be just right. However, many families find a vacation rental home not only more comfortable but a better travel deal.
A couple of perks of securing a vacation rental home include having a kitchen to keep and prepare meals, separate bedrooms for a good night's sleep, outdoor spaces to stretch your legs and get the wiggles out, and more room for your family to spread out after a long day spent together.
Hotel rooms are options for smaller families and many allow kids under age 12 to stay free. To get the most out of your hotel room find a hotel with amenities like a pool, free breakfast, laundry facilities, and a pool for the kiddos.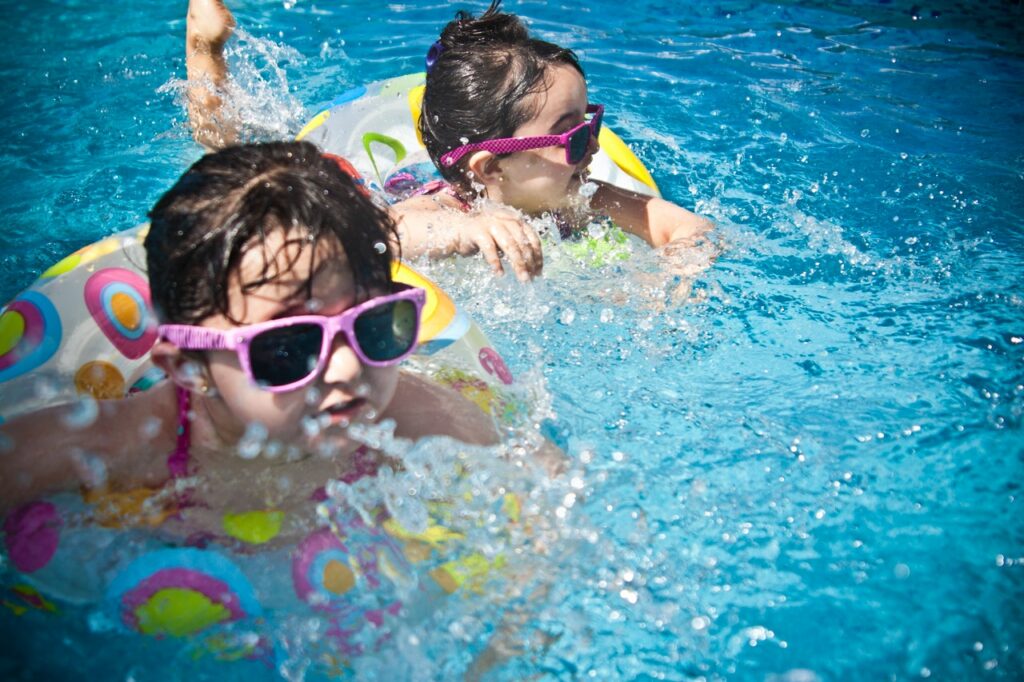 If your family has an adventurous side, try camping to save money on travel. Keep in mind camping makes for extra work and you will likely sacrifice comfort. If you have a packed itinerary and a shorter timeline, camping may not be the best option. However, if you have time to spend on the road and can take an easier pace to see the sights, camping can be a great experience for kids to connect to the outside world and enjoy a simpler life.
Out of the box ideas to save on lodging during your family travels
Travel overnight. Save money on a red-eye flight and settle in for the night on the plane. Or if you're traveling through Europe, book a sleeping cabin on the train and sleep while you travel to your next destination
Housesit, host families, and home exchanges. A bit more radical of an idea but if you travel frequently or take longer trips, these may be great ways to stay local and save some money.
Sleep at the airport. We haven't tried this but have seen others doing this. If you have an early morning flight, arrive at the airport extra early and camp out on whatever comfy chairs or benches you can find. Some airports even have sleeping pods you can rent. And remember, you can always sleep on the plane when you finally take off.
Meal planning on vacation
Full bellies make for happy kids. Sure, we all get a little hangry once in a while, but if you have kids, you know by now that snacks throughout the day keep the crabbiness at bay.
Save money on food while traveling by keeping an arsenal of snacks with you at all times. Pack snacks from home for the plane ride and avoid purchasing expensive food and drinks at the airport.
Bring empty water bottles in your carry-on luggage and fill them at the free water stations inside the terminal after you clear security. You can bring food through security lines as long as it is not liquid (including yogurt, nut butters, etc) over 3.4 oz and the food is separated from your carry-on on the scanner's belt.
When you reach your destination, this is where your vacation rental kitchen or hotel room fridge comes in handy. Stop at a local grocery store and buy snacks and breakfast foods that you can load up in your backpack each day. Have fun while you're out and enjoy a picnic at a local park. It'll save you money on dining out and give the kids a chance to play.
If you don't have the desire or time to shop for groceries, you can save money on meals by eating at mom-and-pop restaurants or buying from street vendors. Plus, it gives you a chance to immerse yourself in the local cuisine.  Also, check online listings or with your hotel concierge for restaurants that offer 'kids eat free' days.
Packing for a family vacation
You can save money on baggage fees by becoming very strategic with your packing.
First, fly with carry-ons only. Many major airlines offer a free carry-on plus one personal bag. That one personal item can be as large as a backpack, as long as it can fit on the floor under the seat ahead of you. Many vacation rental homes and hotels have laundry facilities on site so you can wash and wear your clothes again during vacation.
Check with your airline ahead of time on bringing your baby equipment. Many allow travel cribs, strollers, and car seats to be checked for free.
One more packing tip, resist spending before you go! Going on vacation is exciting and many of us like to get a new outfit or gear for the trip. But if you travel light when you leave, it'll be easier to fly with a carry-on, plus you'll have more money to buy souvenirs or go to the best attractions.
Having fun on your family vacation without breaking the bank
Budget-friendly family activities
Many family trips include popular tourist attractions and activities that cater to kids and families like zoos, amusement parks, and museums. These venues rely on tourist money and the fees can get pretty high.
Here are a few ideas on saving money on tourist attractions for your family:
• Multi/city pass cards that give discounts on major attractions. Two we like are Go City discount cards that cover 20 cities around the World and CityPASS discount cards which are good in 14 cities throughout the U.S. and Canada
• Free Days.  Many museums and galleries have a free day they offer to the general public. Sometimes it is free for all, or just free for kids
• Free events and small attractions. Many cities have festivals and community events that are free to the public and offer a great way to interact with the local culture. If you're not a fan of big crowds and have no FOMO, search for the small attractions that draw fewer tourists and often cost less
• Membership exchanges. If you have a membership to a local museum, zoo, gallery, or arboretum there are generally reciprocal benefits that can get you discounted or free access to member organizations across the U.S. Some of the museums and attractions in Minnesota that have reciprocal member benefits include:
More ideas for family travel on a budget
Getting around on vacation
Save money on transportation by skipping the rental car and hopping on the local mass transit like buses, trains, and subways. Many big cities also offer bike rentals which help you get in some exercise during your vacation.
Use reward points
If you've been saving up your frequent flier miles the time to use them is when you are traveling with family and buying multiple tickets or if the ticket prices are high.
Bonus tip: Start them young! You can enroll children in frequent flier programs so their miles start counting towards future rewards!
Enroll in loyalty programs offered by hotels and restaurants if they are free. You'll have to exchange your name and email, but with a family, you'll likely reach your bonus levels sooner making the exchange worth the effort.
Save money on airport parking
Many people aren't aware that there are alternatives to parking at or getting a ride to the airport.
Offsite airport parking is perfect for families. Often, it is difficult to find someone with a vehicle large enough to transport a family and their luggage to the airport. Not to mention it's a big ask and the favor will need to be returned!
Another reason to use offsite is the large expense of either parking at the airport ramp during vacation or getting an extra large ride share vehicle. Offsite parking can save you nearly half of what you'd pay at the airport ramp. Use our rate calculator and compare!
We hope you are now armed with enough information on how to save money on hour family vacation and can start enjoying the precious time you have together. If you can't afford to take everyone, you can consider taking one child at a time as a gift. Get more ideas on how to give the gift of travel to your kids.